A giant magma chamber has been discovered growing beneath an active underwater volcano in Greece.
The scientists, who have published a study on the camera in the American Geophysical Union's Geochemistry, Geophysics and Geosystems, have determined that the magma chamber below Kolumbo increases the chances of a future eruption. They believe it could come to a head in the next 150 years and pose a "serious threat."
Kolumbo last erupted in 1650 CE. During this eruption, the explosion tore through the surface of the sea, killing 70 people. This eruption occurred after the magma deposits below the volcano continued to grow and accumulate on a large scale.
Scientists believe this previously undiscovered magma chamber is growing at an average rate of about 4 million cubic meters per year since the submarine volcano last erupted. The amount of melt there is now 1.4 cubic kilometers, the study reported.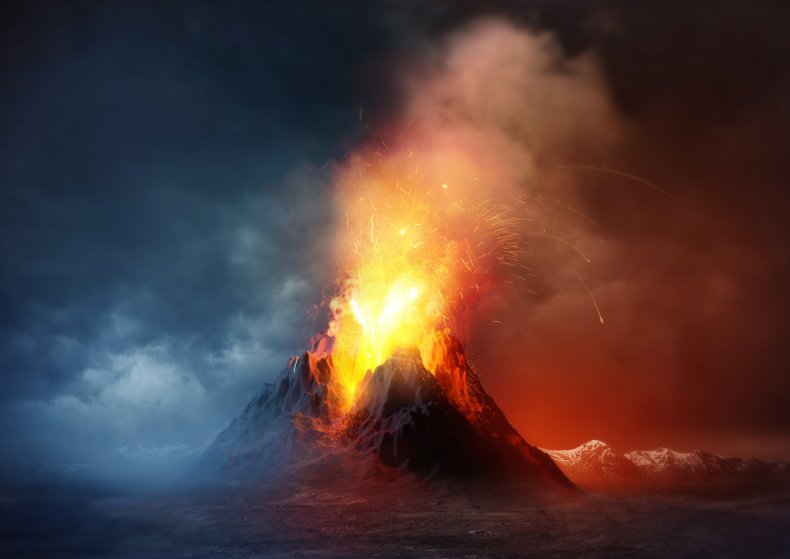 It is now reaching a volume similar to that which caused the 1650 eruption, which means that another major eruption may be just around the corner, as its growth rate outweighs its cooling and crystallization processes.
Although scientists cannot predict the exact time of Kolumbo's next eruption, they are now calling for better monitoring facilities near the volcano.
The magma chamber was discovered using full waveform inversion technology, which records ground motions and analyzes wave speeds near volcanoes. Magma chambers can be detected by a reduced velocity of seismic waves traveling below the seabed, the study reported.
Michele Paulatto, a volcanologist at Imperial College London, UK, and second author of the study, said in a press release: "Full waveform inversion is similar to a medical ultrasound. It uses sound waves to build an image of the underground structure of a volcano."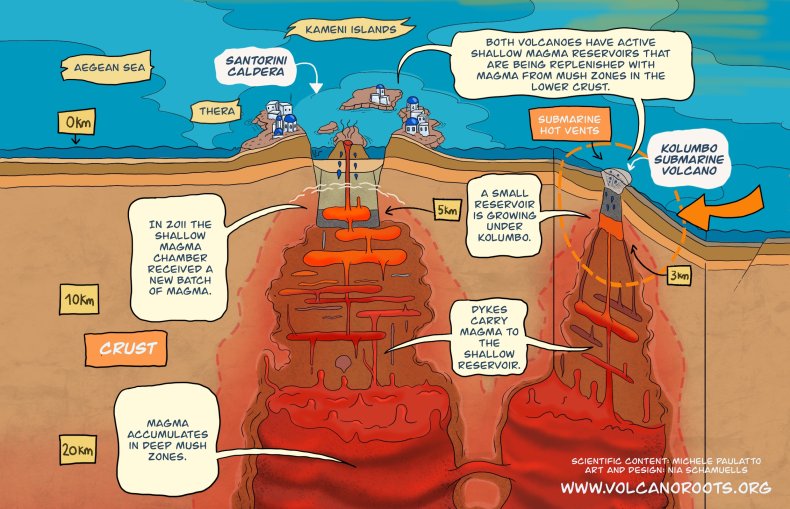 The study, prior to which no detailed data was available, helps inform scientists about submarine volcanoes in the region.
Kolumbo could potentially produce a highly explosive eruption. Scientists compare it to the recent Hunga Tonga eruption, which last erupted in January 2022, triggering tsunami waves up to 66 feet high.
Scientists report that a Kolumbo eruption could be more destructive than Tonga's recent eruption due to its proximity to Santorini, which is a well-known tourist destination. Popular access points on the island are only 4 miles from the volcano.
Since the volcano is also in a shallow area of ​​the sea, 1,600 feet below the ocean surface, this could make the explosion even bigger.
Undersea volcanoes like this one have the potential to cause destructive tsunami waves, as well as ash fall.
Although an explosion does not appear imminent, the study's findings show scientists that the area needs increased vigilance.
"We need better data on what is really under these volcanoes," said Kajetan Chrapkiewicz, a geophysicist at Imperial College London and lead author of the study, in a press release. "Continuous monitoring systems would allow us to have a better estimate of when an eruption might occur. With these systems, we would probably know about an eruption a few days before it happened, and people would be able to evacuate and stay safe."
Do you have any advice on a science story Newsweek should cover? Do you have any questions about volcanoes? Let us know via science@newsweek.com.
---
References
Chrapkiewicz in, "Magna Chamber Detected Beneath an Arc Volcano with Full Waveform Inversion of Active Source Seismic Data," Geochemistry, Geophysics, and Geosystems, Jan 2023, 10.1029/2022GC010475