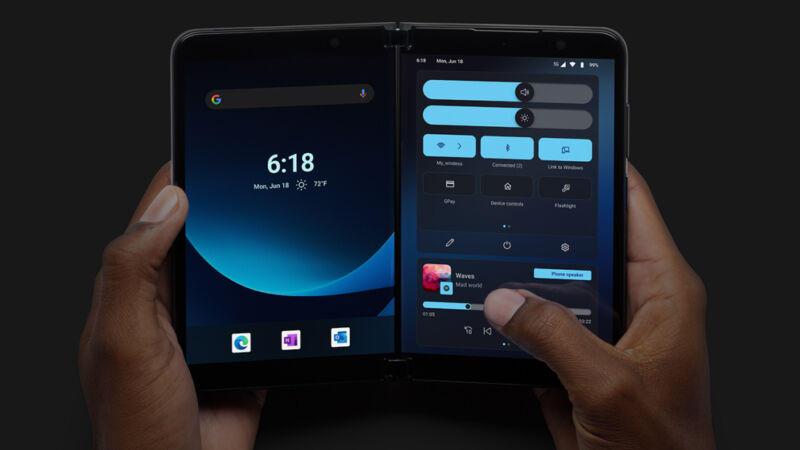 Windows Central's Zac Bowden is the go-to reporter for any Microsoft Surface rumors, and his last report it's that the Surface Duo 3 is dead, or at least, a device in the same mold as the Surface Duo 1 and 2 has been cancelled. There may one day be a device from Microsoft branded as the "Surface Duo 3," but the Surface Duo's form factor, a dual-screen device with a 360-degree hinge, is dead. The report says that Microsoft is now working on a "more traditional foldable design, with a 180-degree hinge, a folding internal screen, and an external cover screen," along the same lines as a Galaxy Fold.
The Surface Duo line is made for two of the most cumbersome Android devices on the market. Instead of the tall, thin screens that Android phones typically use, both Surface Duos used short, thick screens, making the Duo line the widest smartphones on the market. The original Surface Duo was planned to run the canceled "Windows 10x" operating system, which would have taken advantage of the single-screen aspect ratio. When that operating system was cancelled, the project was brought back as an Android phone, but those short, chunky screens led to plenty of poor Android app designs, and the limited vertical screen real estate was further reduced due to large headers and android tab bars It sounds like Microsoft wanted to land on the same basic schematic as a Moleskine laptop, but Android apps just aren't designed for that aspect ratio. Also, even when folded, being dramatically wider than any other smartphone on the market also made it a literal pain to try to hold with one hand.
After two nearly identical versions, Microsoft seemed to have hit the "too broad" line of thinking. The report says that the canceled Surface Duo 3 would have had "narrower and taller edge-to-edge displays," which would have put the phone in a more reasonable form factor.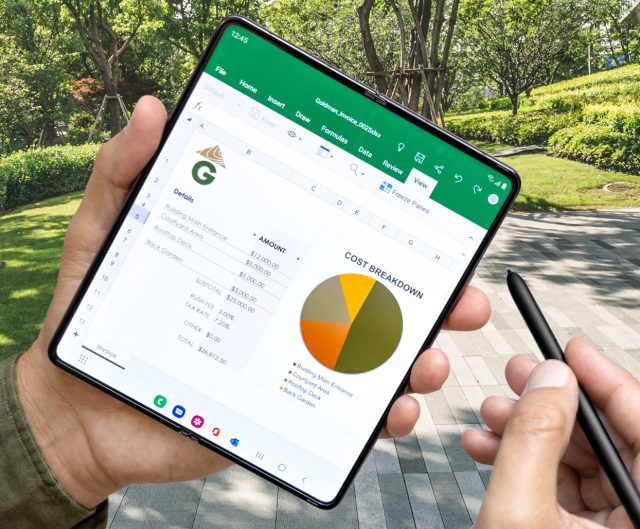 With those plans dead, what is "internally considered a 3rd-gen Duo" will be a more normal foldable smartphone, and it's unclear if it'll be branded as "Surface Duo 3" or not. As we have argued in our review from the original device, equipping the device with a continuous internal display would be a huge improvement over the dual-screen design. With a large foldable screen, you can still get all the dual-screen functionality via Android software's split-screen mode, but with the added benefit of also having a large screen for tablet apps, movies, games, and websites.
In addition to the incompatible form factor with Android, Microsoft's Android phones have had a host of other issues that the company will need to fix. The Surface Duos always felt like foldable beta devices, and that compromise might have worked if they didn't come at the full price of an actual foldable phone. The $1400-$1500 price tags weren't competitive for what was basically two smartphones glued together, so you have to wonder what's up with Microsoft's supply chain. Microsoft's Android software division has also been a disaster, with the company outsourcing the Surface Duo 1 operating system up to two months before launch and shipping a disastrously buggy version of Android as a result. Microsoft has since bought out the team it outsourced its Android builds to, but so far, Surface Duo customers have seen a worst in class Android update log.
The report describes that Microsoft wants to make your Android phone work better with Windows through an internal program called "Perfect Together" that is creating Apple-style integrations between the phone and laptop/desktop computers. Despite the Surface Duo's flop, Bowden says Microsoft is "all in" with Android and "eager to expand its lineup of Android smartphone offerings" beyond the new foldable device. The report says that Microsoft has prototyped various ideas for a "mainstream" slab-style Surface Phone that could one day ship.
It looks like we'll be waiting a while for Microsoft's next Android phone, and Bowden says the foldable "also doesn't have a concrete shipping window for the device, which means it's unlikely to be ready in time for this fall."